Happy Friday before Labor Day!!
I hope you all have a fun and relaxing weekend ahead of you!
Ok I had to start of this piece of amazingness. Kim from Living Vintage just redid her kitchen to this Vintage Industrial Kitchen. I don't know Kim, but I really hope she's ok with me moving in – because this is seriously my dream kitchen. Go check out the photos. I'm dying here. The pendants, the pantry door, the artwork. Ok enough gushing.
This Ikea Bookcase Hack from Sarah at A Little of This a Little of That – is amazing! That gold design is so fabulous.
I don't even know what to say about this Boston Cream Crepe Cake from Lyuba at Will Cook for Smiles – other than Oh. My. Gosh.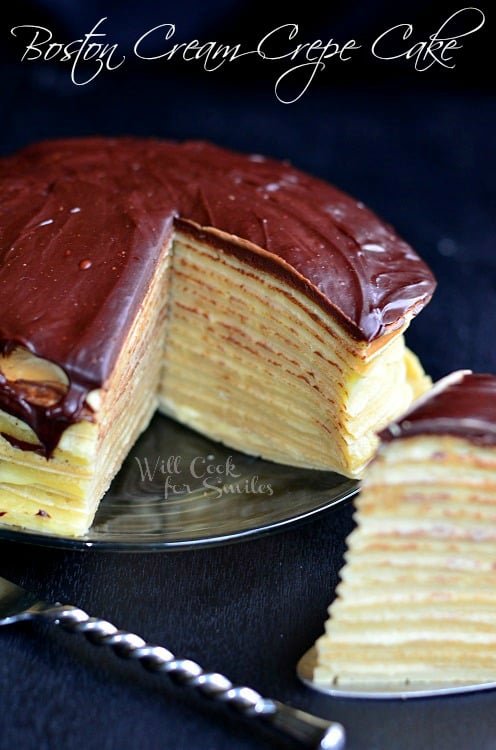 How cool is this Herb Planter that Shannon from eat.sleep.Make. made from an old toolbox?! The painted triangles really add a fun look to it I think!
Leslie from The Seasoned Homemaker has a fabulous tutorial for Making Bias Tape. In all my years of sewing I had no idea they made the awesome tools she posts about – guess what I'm buying this week!!
Carolyn from Homework painted up this beautiful Lace Stenciled Bottle! It is so classic and I love the neutral colors she used!
These Shabby Chic Flowers that Sarah from Craft Quickies added to her hand towels are so pretty! She has a great tutorial too for you so you can make up lots to decorate your packages, outfits and hand towels with.
Jamie from Scattered Thoughts of a Crafty Mom linked up her tutorial for this pretty Dolman Tee! She has a great tutorial on how to make a pattern from your favorite t-shirt – super helpful!
These Red Currant Raspberry and Almond Muffins from Aimee at Twigg Studios look so pretty and yummy! I love how she styled this photo too!
Oh my gosh you guys. Are you as blown away as I am? Wow!
Thanks so much for linking up everyone!
If you were featured and would like a button you can snag one here!
Ready for some Weird Searches?! Me too!
(These are searches that people typed into Google or whatever, and landed here. And we make fun of them. All in a friendly-like fashion.)
First up we had someone looking for "extra yarn". Seriously? Why are you looking for just "extra" yarn? Is it hard to find? Because if so, I invite you to visit my craft closet and help yourself.
We also had someone who searched "handmade card come on". Which is exactly how I feel about handmade cards. I admire them excessively, but me make one? Come on.
Last up we had someone looking for a "pics and images of nice designed toeses". Ok there are so many thingses wrong with this. First up – we don't need more images of toes out there. Second – I dare you to go up to the next person you see in sandals and tell 'em you really like how their toes are designed. Maybe not the best way to make new friendses. (I had to. Sorry.)