Hi All! If you're new to Pinterest Feature Friday, every week Michele, Malia and I choose a feature from the Pinterest Master List for Crafters and highlight their boards and pins! Michele is here today to bring you the feature of the week!
Hello, friends!
Michele here with PFF installation #71.
I have a great gal to share with you today.
Its Jamie from C.R.A.F.T. (creating really awesome free things)!
Jamie has a wonderfully creative blog, and of course you can find the same awesomeness within her Pinterest boards.
Jamie is currently clocking in with 40 boards and 4380 pins!
Let's start with looking at a few boards.
Jamie's Interesting & Useful board if full of tips and tricks and all around great ideas!
There is a fantastically creative collection of alphabets in this Alphabet-ing board.
Spring will be here before you know it! Jamie has a great collection of Gardening ideas.
You can definitely get your interior design fix in this Decorating Inside board. Oh, the eye candy!
Speaking of eye candy… ready to look at some pins?
I need one of these branch bracelets!

Pinned by Jamie from Our Family Jewels
These rainbow felt bows are TOO cute and the perfect gift for little girls!

Pinned by Jamie from My Sister's Suitcase
This lemonade sign is available as a free printable. Think summer!

Pinned by Jamie from One Charming Party
I love this encouraging printable. Wouldn't it be cute a child's room?

Pinned by Jamie from Gayana
Genius! I don't know what else to say about this except I need one in my house!

Pinned by Jamie from Better Homes & Gardens
How clever are these light fixtures made from spoons?

Pinned by Jamie from Purple Homes
I'm loving these 8 awesome pie crust topper ideas!

Pinned by Jamie from Style Me Pretty
I love your inspiration, Jamie! Thanks so much for linking up to the Pinterest Master List!
Be sure to grab a featured button.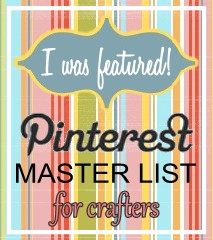 Have you joined the Pinterest Master List yet?
We would love to have you! And, who knows, maybe you will be our next feature!