Hello, friends!
Michele here today with our latest Pinterest Feature Friday!
Today we're highlighting the Pinterest boards of Misty from 413 Sparrow Lane!
Misty has 41 boards and 1105 pins.
Ready to see some fun pin boards?
I'm absolutely drooling over Misty's One Day Dream Home board.
So much eye candy!
Typography is HUGE right now and you are bound to find some inspiration in Misty's Typography Fun board!
As the mom of boys, I enjoy seeing a little bit of girly eye candy, and
Misty's It's A Girl! board delivers with some absolutely adorable little gems.
Ready for some pins? I thought so. Let's do this!
Can you believe the amazing ruffles on this pillow are made from t-shirt scraps?

Pinned by Misty from Tiffany Ruda
I'm going to just let this one sink in with you for a minute.
Go ahead, take a look.
32 glorious recipes are in this bad boy!

Pinned by Misty from dhpss at issuu
This We Are Owls inspired scarf is ah-mazing!

Pinned by Misty from Stamp 48
Now this is a statement headboard. And the color scheme of the rest of the room plays right off of it!

Pinned by Misty from Apartment Therapy
Have you always wanted to know how to tie the perfect bow? Here's how!

Pinned by Misty from B for Bel
Apple Snickerdoodle Cobbler. Need I say more?

Pinned by Misty from Baked by Rachel
Thank you so much for linking up with our party, Misty!
Please feel free to grab a featured button.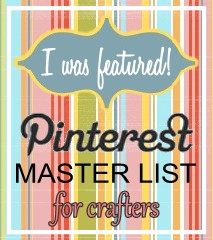 Have you joined the Pinterest Master List yet? Maybe you'll be our next feature!