Happy fall, y'all!
Michele here to get you started on some fun fall Pinterest features!
Are you ready to start thinking turkeys and pies?
I know I am!
Today's feature is the lovely Lina from Fancy Frugal Life!

Lina has 38 Pinterest boards and 1662 pins.
Of all of those boards, I want to focus on the Its the Holidays board where Lina has pinned all of her Thanksgiving and Christmas inspiration!
And with November finally arriving and Halloween behind us, we're going to focus on T-day!
Lina has a great mixture of the two holidays here.
So let's get started looking at some pins, shall we?
My boys love doing handprint art, and I think we will have to make some of these adorable turkeys!
 Pinned by Lina from Peterson Stories
I may be the mom of two boys, but I can appreciate an adorable girly Thanksgiving outfit.
Isn't this too precious?
This pumpkin dump cake makes me feel all warm and cozy just looking at it!
 Pinned by Lina from Cookies & Cups
This simple treat would be a cinch to put together. The kids could even help!
 Pinned by Lina from Woman's Day
This spiced pumpkin mousse trifle would be the perfect addition to the Thanksgiving table.
 Pinned by Lina from Rachel Ray
I'm thinking this utensil turkey would be a big hit at the kids' table this Thanksgiving!
 Pinned by Lina from I Gotta Create
So clever! A printable to-go pie slice box!
 Pinned by Lina from Love the Day
So much inspiration!
I love your board, Lina. Keep up the great pins.
And feel free to grab a featured button!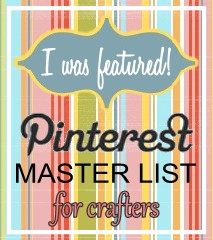 Have you joined the Pinterest Master List yet?
Who knows, maybe you'll be our next feature!