Happy Friday!!!
Can you believe Thanksgiving is less than a week away?? Woohoo!
Are you ready for some inspiration – we had amazing projects at Think Pink Sunday again this week!!
Wow – these Pumpkin Cupcakes with Caramel Frosting from Sweet Southern Blue look amazing! Plus – they're mini. Which is always more awesome.
I'm pretty sure that I'm going to go make Taryn from Design, Dining and Diaper's come redecorate my house. Seriously – this girl is so talented! Check out her master bedroom redo!
This Faux Rusted Metal sign from Larissa at The House on Harrison looks so great!! She has a really clear tutorial too so you can easily create your own rusted artwork!
Speaking of bloggers that I'd like to have come over – Jenn from Rook 17 is high on my list. This girl can bake anything! Check out her Dark Chocolate Honey Truffles! These would make such great neighbor or teacher gifts!
Shelly from Sow and Dipity made these Pretty Frosted Illum-MASON-aries! I love the way the pine and lights shines through the frosted glass!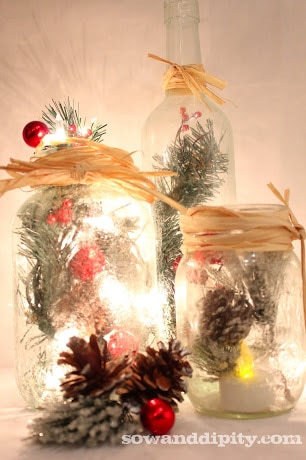 You know I love machine thread sketching – and this Merry Pillow from Andrea at The Train To Crazy is so super cute!! I love the fabric she chose for the trees too!
Marissa from Rae Gun Ramblings made this cute Quickie Headband! Look – Lace. And Rick Rack. I must have it.
More yumminess – take a look at these tasty Individual Apple and Eggnog Trifles from Aunt B on a Budget! These would be fun to make up next week!
This 30 Minute Infinity Scarf from Jess at Spool and Spoon is so pretty! It looks quick and easy – and it would be a great gift!
How fun would these be for a Christmas party?? These Chocolate Peppermint Candy Cane Cupcakes from Stephanie at Sweet Boutique look pretty and yummy!
I'm loving this Winter Maxi Skirt from Tamara at Etcetorize! The fabric is so pretty and she has a really clear, easy tutorial for it!
Jill from Create Craft Love put together a really sweet Thanksgiving Mantel! So rustic and simple but gorgeous!
Awesome features right?
If you were featured and would like a button you can snag one here and show it off!
Thanks for linking up each week!
Ready for a couple Weird Searches?
This week we had, "animals with nice toes". Let's see. . . I'm thinking Kittens. Puppies. Flamingos. (Duh) And why do we need to know this? I'm hoping we're not going to see a nationwide chain of "Peticure" shops opening up. (Awful joke. I know.)
We also had someone land here looking for "my favorite magazine". The funny thing is, unless you actually tell Google what your favorite magazine is – it might not know. You could be hoping for something like Country Living or Apronology and you could end up with Miniature Donkey Talk Magazine. (Yep. Real.)