Happy Friday!!
Is it crazy that we are two weeks away from Thanksgiving? Yikes!!
Let's distract ourselves with awesome features!
These DIY Gem Earrings from Shannon at Eat. Sleep. Make are so great!! They look so Anthro to me – with the top all  metallic dip dyed like that. I think I need to make up a bunch for Christmas. And for gifts too! ;)
Carolyn from Homework linked up these Chocolate Chocolate Chip Butterball cookies. Which sound amazing! Also, if Carolyn could come over and style all my photos, that would be great. :)
This pretty DIY Chalkboard and Fall Display from Kelly at ReStitch Me is so fun! I love the quote she put on it too!
Amanda from Bullfrogs and Bulldogs put together some really sweet Simple Rustic Clear Ornaments! I love them all but I think my favorites are the red gingham!
I'm loving these Painted Stripe Beds from Melissa at Daisy Mae Belle! The red and cream reminds me of ticking – so cute!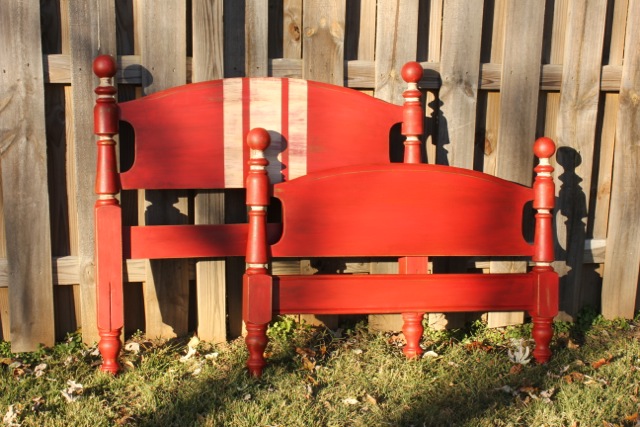 Check out these Pumpkin Spice Sugar Cookies from Keri at Shaken Together!! These are super quick – and made from store-bought cookie dough!
Wow these look amazing! They're Dirty Blondies – from Heather at French Press. Basically cake batter blondies stuffed with chocolate thank you very much.
Jennifer from Two Butterflies made a really pretty version of the Anthro Crochet Spliced Loop Scarf! I love the colors she chose!
How cute are these Edible Tea Cups from Holly at 504 Main?? They'd be so perfect for a princess party!
How gorgeous are these ribbon rosettes from Oksana + Hobbies! She has a great tutorial for you too – so you can add them to all your Christmas gifts and wrapping.
So fun!! Thanks so much for linking up – it's the highlight of my weekend to see all the awesomeness that you have made!
If you were featured and would like a button – you can grab one here!
It's been a while since we had some Weird Searches – are you ready for some??
This week we had the search for "bev michele feet". Now Michele and I are really good friends. But let's be real – there are limits to what we'll post about. And I think a post highlighting our feet is out. What do you say Michele? :)
We also had a search for a "small cone with a ring on top and a pin on a chain". umm. Are we looking for tutorials for Christmas Tree Grenades?
Last up was a search for  "fascinating bib necklace designs and tutorials". While I'm honored that they ended up here – I doubt anything they found here qualifies as a fascinating tutorial. If that's what people are looking for I guess I need to step up my game! :)
I hope you have a great weekend! I'll be painting and sewing and trying to unearth my dining room table. Wish me luck!