Wow, I can't believe I have the honor of being a guest poster for this fabulous series.
My name is Vanessa and I blog over at Our Thrifty Ideas. I am a Play At Home Mommy of 2 littles living in Utah with my amazing husband Sean. I share fun and thrifty DIY, Crafts, and any other Mommy Life related tasks. I love to share my adventures with my readers, and more than anything, inspire them to get creative themselves.
Speaking of getting creative, today's feature is of Allison Vial. She has such creative boards, that draw you in for more. She has 18 boards containing 865 pins! Sweet Girl!
So, ya wanna know what makes Allison's Pinterest Boards so fun? Check them out…
Hello, who doesn't need a whole board dedicated to just Wreaths?!
And a Mommy's best friend, cleaning tips.
But you gotta add some fun in there with these fun color pallets.
And fun/inspirational quotes!
But digging even deaper, Allison has some pins that I'm slightly dying over!
I might base my family pictures next month of this color pallet from design seeds that Allison pinned.
She pinned this organization that this is so smart, while cute at the same time from I heart organizing.
Plasticland has these fun floating book shelves. I love this pin
This print is just too cute from Sycamore Street Press on Etsy.
But the pin I love the absolute most, is this Adult Tee into Baby Shortall from Feather's Flights. Maybe it has something to do with the BYU one in the main picture (Go Cougs)?!!
Make sure to check out Allison's Pinterest Profile, and admire her boards as much as I did! She's got such a fun eye for creativity.
Thanks so much to the wonderful Hostesses for letting me stop by today.
. . . . . . . . . . . . . . . . . . . . . . . . . . . . . . . . . . . . . . . .
Thanks so much for this great feature, Vanessa! You've definitely inspired me to go check out Allison's Pinterest boards!
Be sure to have a look at Vanessa's Pinterest boards for some great inspiration, too!
Allison, feel free to grab a featured button!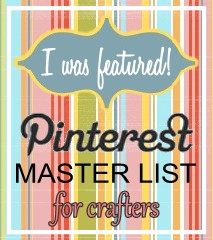 Have you joined the Pinterest Master List yet?
We would love to have you! And, who knows, maybe you will be our next feature!