I don't know about you but my To-Do List is a mile long.
There are soooo many projects that I want to do. I'm thinking about giving up sleeping.
Or at least cutting it down to 2-3 hours a night. That's enough right? :)
And everytime I read another blog, scroll through Pinterest, or check into Anthro, it grows longer. (Which let's be honest, is fairly often.)
So I thought I'd share just a TINY FEW of the projects on my list.
I'm really in love with this skirt. The denim paired with the sweet fabric underneath is just too cute!
How cute is this tablecloth?? Kendra from Me and My Insanity created this one and while I love this red, white and blue, I think I'm going to make mine a little more general – so I can use it all summer!
I'm going to Mod Podge some shoes. I've been wanting too forever – I even have the shoes. I just can't decide what to do!
Check out these cool shoes – see why it's hard to decide??
I'm going to skip paying $298 for this at Drift Away Comforter at Anthro and make a knockoff version.
I'm thinking a nice Burgundy or Olive Green.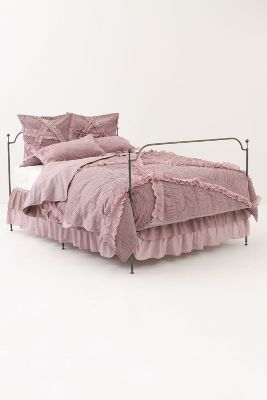 This one has been on my list forever. I love papercuts but you all know that I'm not so gifted in that area. So I really want to make this and I keep putting it off.
But I'll get too it eventually – it's too cute not to do! Alice is one of my favorite books and these scene is so perfect.
This comes from a fabulous papercut blog Scherenshnitte.
And yes. I have thought of cutting it out with my Silhouette. But that would be cheating. Right?
Someone has stolen all of my potholders. You think I'm joking but I'm not. They have slowly disappeared over time and now I'm resorting to pulling things out of the oven with folded dishtowels.
Which if you're a bit (ok a lot) clumsy, is a good way to toast some fingers.
I can't bring myself to buy them. So I need to get busy and make some. TipNut has gathered some fabulous tutorials and put them all in one post.  I like these for inspiration.
And of course – what would a To-Do List be without some Anthro Necklaces?? Well. It wouldn't be MY To-Do List. :)
These have been on my list long enough that the store doesn't carry them anymore. Fortunately I was wiley and saved the pictures. Woohoo!
So that's just a little bit of the things that roll around in my head when I should be sleeping. A very little bit. :)
What about you? What's on your list? Clothes? Jewelry, Stuff for your House? All of those?? :)